History of Big News Network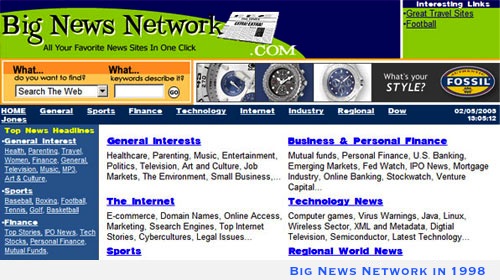 Big News Network was established in 1998 by Hayden Enterprises. It was developed by that group through to its acquisition by Australian interests in 2000 – to complement the News.Net network which was founded in 1999. With the completion of the development of the News.Net network in 2000 , firstly through Hayden, and subsequently through its own in-house resources, Big News Network.com was substantially overhauled and re-launched in 2003. The previous year the network began development of its eNewspapers, more than 100 of which were launched between 2002 and 2004.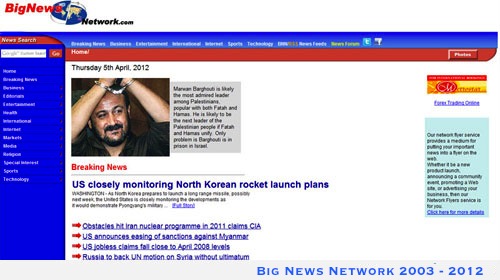 The signature Big News Network.com was revamped and re-launched on March 3rd 2003 (the third day, of the third month, of the third year, of the third millennium, an event that won't be repeated for another 1,000 years). Big News Network.com attracts around 90,000 unique visitors a day.
The network spent the next decade in a development phase with each platform, and indeed each individual site, being separately operated and developed while strategies and software to support them were progressed. By 2012 the product was ready to be brought in under the one umbrella. A re-design phase for each platform and site was completed in September 2012 and the entire network was re-launched in that month. The evolution of Big News Network from its humble beginnings in 1998 had evolved.